In our continuously expanding FAQs section we aim to give you as much help as possible. Browse the questions and answers and if you do not find what you are looking for, do not hesitate to contact us. All the questions frequently occurring will appear on this page soon.
What does the product name mean?
Our product names are constructed the following way: The first number indicates the number of LEDs in the light. It is followed by the LED's technology, which shows the power of the light the LED can produce, and the size of each LED. The next data are thelight's fitting and its type, its colour temperature. The last data is the Voltagethe light can be used at. See example below:
| | | | | | | |
| --- | --- | --- | --- | --- | --- | --- |
| Number of LEDs | Technology | Size of LED | Fitting | Type of Light | Colour Temperature | Voltage |
| 12 | SMD Power | 3528 | G4 | LED Light, Side Pin | Bright White | 12 V |
How can LED lighting help reducing CO2 emission ?
Everyone has heard of the global warning on climate change and knows the importance of acting immediately to prevent dangerous anthropogenic interference with the climate system. LED lighting offers the most modern technology to instantly replace your existing energy hungry incandescent or halogen light bulbs and reduce your electricity bills and therefore your CO2 footprint by 80 – 90%!
Do I need a PayPal account to complete payment on your website?
No, you do not need to have a PayPal account. We accept most major debit or credit cards. At the checkout please fill in all necessary fields and press the "pay" button. The payment is made via the most secure PayPal site but if you do not have a PayPal account please click on "continue" (above the card logos) to proceed with any type of debit or credit cards.
| | |
| --- | --- |
| | If the payment is successful, the system will send a confirmation and you can return to the LEDcentre site. |
How can I submit the coupon code?
To receive additional discounts on your LED lighting products, simply enter your coupon code at the bottom of the shopping cart. The web-shop will automatically generate the lower final price.
Who can provide support to help cut carbon emission and save money?
Energy efficient LED lighting is one of the best low carbon technologies to act on CO2 emission and to save the earth for the future. Shop online with LEDcentre.uk.com today and start saving money in your home, office, shop, business, etc. please view our LED lights now. If you require further information or need specialist support to any businesses or within the public sector, please visit the Carbon Trust.
What is the conventional (tungsten) lighting? What is LED lighting?
The conventional incandescent was invented by Edison approximately 110 years ago. The power going through the thin tungsten generates the light. Its efficiency is very low, only 5 – 6 %, the rest of the energy transforms into heat. 1W generates 5 – 10 lumens light. Its lifespan is very short, from a range of a few hundred to 2000 hours. LED lighting is a brand new technology. In fact it's a diode that generates light. Its efficiency is the highest existing nowadays, between 50 -70 %. 1W power can generate up to 100 lumen light. The LED's lifespan is very long an average 30.000 – 50.000 hours.
What is compact fluorescent? What is the difference between compact fluorescent and LED lighting?
The compact fluorescent is basically the same as a fluorescent tube. It reaches its maximum brightness in 1-2 minutes after turning on.
Fluorescent lamps and compact fluorescents are designed for persistent use. Too many switching on and off can cut down the already short lifespan of a few thousand hours. LED differs from compact fluorescents in two main areas: it uses about 50 % less energy and constant switching does not affect its lifespan.
How does LED work and how was it invented?
A light-emitting diode (LED) is a semiconductor light source. LEDs were used as indicator lamps only, in many devices, but now are increasingly used for lighting. Introduced as a practical electronic component in 1962, early LEDs emitted low-intensity red light, but latest versions are available across the visible, ultraviolet and infrared wavelengths, with amazing brightness.
The LED is based on the semiconductor diode. When a diode is switched on, electrons are able to recombine with holes within the device, releasing energy in the form of photons. This effect is called electroluminescence and the colour of the light is determined by the energy gap of the semiconductor. An LED is usually small in area (less than 1 mm2), and integrated optical components are used to shape its radiation pattern and aid in reflection.
There are many advantages of the LED lights over incandescent light sources including very low energy consumption, extremely long lifetime, improved robustness, smaller size, faster switching, and greater durability and reliability. LED lights are relatively more expensive than traditional light sources, however much cheaper outlay in the long run. They also enjoy use in applications as diverse as replacements for traditional light sources in automotive lighting and in traffic signals. Airbus has used LED lighting in their A320 Enhanced since 2007, and Boeing plans its use in the 787. The compact size of LEDs has allowed new text and video displays and sensors to be developed, while their high switching rates are useful in advanced communications technology.
To watch a video on how LED light works, please follow the link Video
I would like to switch for LED lighting, how shall I start?
First of all it is useful to prepare a list of lights which are already used in your home, and check the LED equivalent of them in our Great Light Test , where we compare the most occurrent incandescent and halogen lights to their LED equivalents. If you still have unanswered questions, do not hesitate to contact us at support@ledcentre.uk.com You can also read some further information on choosing LED lightsin one of our articles .
After switching on how long does it take to reach its maximum brightness?

One of the main advantages of LED lighting is that you do not need to wait; it reaches the maximum brightness immediately.
How to compare the brilliance of LEDs and other sources of light?
All LED manufacturers producing quality products provide the luminous flux (measured in lumen) of each product. If this detail of the product is not indicated, then the manufacturer is either a bit forgetful or….
Luminous flux is a detail of the light emitted on the entire surface of the light bulb. In the case of traditional light bulbs this is 360°. The beam angle of the LEDs, on the other hand, varies tremendously. In case of a 120° beam angle LED light bulb the luminous flux can be multiplied with at least two, only to get the roughly comparable data. Full comparison would only be possible with measuring the candela (cd) rate of both lights, which is the light emission from a certain angle, but that is not available with traditional lights. (Lumen / Lux Converter)
One of the reasons LEDs are highly energy-saving sources of light is their good concentration of sources. A 120° angle bulb does not enlighten the areas behind the bulb, thus saving wasted energy with traditional light bulbs.
Which LED do I need to replace my current bulb?
There are three major types of LED lights:
1. Low power
Their primary purpose is creating decorative or mood lighting, to add a special atmosphere to your home or office. Their light emission is low and can only work for a few hours a day.
2. SMD power LEDs
SMD LEDs have a much higher performance, which makes it suitable to replace traditional sources of main lighting. These diodes usually emit diffused light and can be used for 10-12 hours a day. They are good for main lighting, decor lighting and task lighting as well.
3. High power LEDs
Compared to the previous two, high power LEDs are suitable even for constant, that is commercial use. The beam angle of these lights is a bit narrower, closer to spot lights. This way they are good for main lighting and task lighting as well.
What transformers are the most suitable for LED lights?
Electronic transformers do not work with LED lights. When replacing your transformer / power supply with a new one, we strongly recommend you purchasing a dedicated LED power supply / transformer. The right kind of transformer is an investment to guarantee the maximum lifespan of the LED lights. For the range of LED MR16 lamps, LED G4 lights or LED strip lights supplied by LEDcentre.uk.com this would need to be a constant voltage LED power supply / transformer. Unlike electronic transformers, commonly used for halogen lights these do not have minimum load requirements, but do have a maximum so make sure the sum of Wattage used by your LED lamps or lights is less than the maximum rating of the LED power supply / transformer. To maximize the efficiency and lifespan of your LED transformer keep the total power consumption close to 80%.
Please note: LED power supplies / transformers are design specifically for LED lights; therefore they are more efficient than using existing transformers. Please also note that there is no warranty for any of our 12V LED lights used with unsuitable transformer.
LED power supplies / transformers
Can existing 12V transformers be used?
Most of the 12V transformers used to power halogen lights are not suitable for 12VDC LED lights. For this reason we cannot offer a warranty on our 12V LED lights unless they are used with our LED power supplies / transformers. In most cases we can recommend that MR16 fitting are converted to GU10 fittings using a simple fitting conversion kit available on the high street. Please remember that any electrical work should be carried out by a competent person and the overall electrical installation must conform to the relevant regulations.
What is power LED?
Power LED is a category which includes many different types and brands and indicates a bigger amount of current (about 350mA) running through the LED, for instance in 5mm LEDs this is only 20mA. There are many various manufacturers producing different quality and type of power LEDs, therefore, depending on the utilization, it is very important to choose the right quality of LED. Power LEDs are generally for commercial or even constant (24/7) use, therefore their quality is extremely significant. Only a few companies belong to the frontline, and one of them if not the best is the American CREE .
Fittings: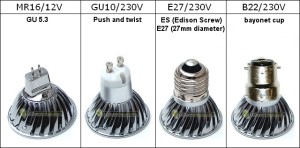 What type of fitting? What is the best for me?
On the pictures above the most common fittings are shown. If you know your fitting, you can easily find the right LED equivalent.
12V LED lights  MR16/12V   G4/12V    230V lighting    GU10/230V    E27/230V    B22/230V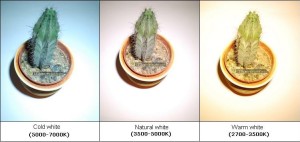 Colour temperature:
The photos above were taken in a dark room, without pre-setting the camera or editing the photos afterwards. Different colour temperatures of the light can be seen on the trim of the terracotta pot and on the cactus. In the first photo the object was illuminated with cool light. The cool light is the brightest. In the second photo natural white was used, it is similar to sunlight.
In the third photo the warm white can be seen, which is similar to the colour of tungsten lighting and halogen lights. For more info please visit our Colour Temperature presentation
What is home usage?
Recommended products to home usage are based on an average 3 hours use per day, and not suitable for continuous use. These lights come with 5mm low power LEDs and represent an entry level of lighting.
What is commercial usage?
From daily 6-8 hours or more, perhaps continuous use, typically illuminating shops, restaurants, offices, etc. These products are mainly the SMD and High Power LEDs with necessary cooling.
Some facts about LEDs:

Lifespan: 30.000 – 50.000 hours are the realistic. The LED lightings' lifespan depends on the type of LEDs, the quality of the electronics and the quality of fabrication. At LEDcentre we do all efforts to provide you the best possible quality products.
Heat and temperature: LED lighting equipped with 5 mm and smaller SMD LEDs produce negligible heat. The larger LEDs or densely equipped lighting and particularly the High Power LEDs are fitted with accordingly developed baffles. We recommend using these products in well ventilated places. A well-produced LED product should never heat up more than 40-60 C°. It does work even on 120 C° but radically shortens its lifespan to 10% of the original.
Power consumption: The High Power LEDs' power consumption is always more than their performance.
Transformers: There are many types of transformers on the market, but not all are suitable for LED lighting. Most often a specific constant current/voltage stabilised LED drivers/power supplies are used.
Brilliancy: The disadvantage of most conventional and tungsten lamps are that their light is diffused. One of the benefits of using LED lighting that its light – in most cases – is directed to the illuminated area only so as to consume less energy.
Are LED lights dimmable?
The latest technological inventions have recently provided us with dimmable LED lights , which are now available at LEDcentre.uk.com. These lights are dimmable with the leading edge dimmable technology, therefore they work with the traditional TRIAC dimming systems originally constructed for halogen lights (these dimmers are operated by tuning a knob or by moving a slider). The other type: trailing technique is unfortunately still not sufficient for our LED lights. Check your dimming system before applying LED lights.
Where can I learn more about LED technology?
If you wish to know more about the technical side of the LEDs we can highly recommend the following site: Power Management Design Line
For even more, up to date information you can visit the LED Magazine , where you can also subscribe for the free LED newsletter.
We also try to supply you with the latest technological inventions in our newsletters available soon for subscription.
I would like to use LED lights in my car. How should I start?

To expect a long term usage of LED lights stabilized power supply is essential. As this is not guaranteed in cars it is highly recommended to equip the car with a stabilized power supply or a stabilizer attached directly to the LED light.
MR16 and MR11 lights
Both MR16 and MR11 lights work with 12V AC and DC systems as well.
Where can I dispose my old light bulbs?
Electronic equipment, including light bulbs, require a special treatment, since fluorescent tubes for instance are hazardous waste. Therefore their proper disposal is crucial from the point of view of environment protection. LEDcentre offers its clients to handle the disposal of the replaces bulbs of any kind. If you wish to use this service, just send us the unwanted light bulbs to our physical address, and we will take care of your waste.
Our address is: Ground Floor, 17 Bowater Road, London, SE18 5TF
Can I use LED lights in my boat or caravan?
Yes you can! 12V or 24V LED lights can be operated with batteries. If the charging of your battery is not regulated, it is best to use a voltage regulator with the products to assure their long lifespan.
Mission statement of LEDcentre
Our aim is to satisfy our clients and reduce their electricity costs with our excellent price and volume rated products. LED lighting is a brilliant long term investment as it pays back five times more its cost. The goal is to offer a range of high quality products for long-term use, and to make agreements mutually profitable for both parties. We hope we could be at your service. For any further questions contact us at support@ledcentre.uk.com .
Which price applies to me?
There are usually three prices indicated on the product page: "1-2 metres(s)/item(s)", "from 3 items" and from "20 items". These quantities refer to the number of items you buy all together from the shop, so to get the first discount you only have to purchase three items of any kind. Strip lights are counted by the metre, or by 5 metre reels if they are on sale – as indicated on the product page." As you add more items to cart, the price for all products in it will drop automatically.
For wholesale prices please contact us at support@ledcentre.uk.com or call us on 02074505292.